The QS World University Rankings have named the University of Edinburgh as the top institution for sustainability in the UK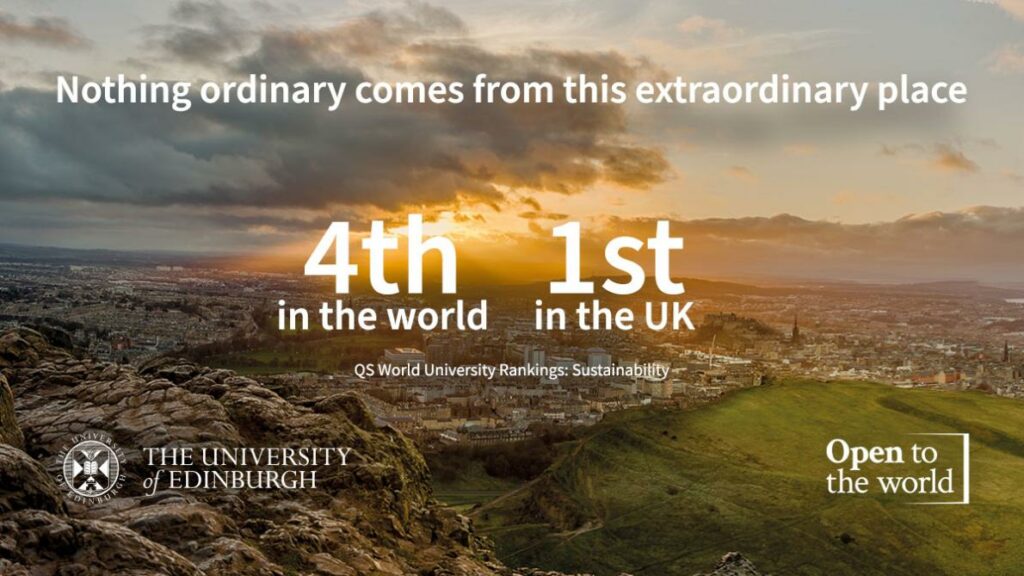 The University is also placed fourth globally out of 700 higher education institutions listed in the world rankings.
This is the first year the QS World University Rankings – a leading world league table for the higher education sector – have introduced sustainability as a framework.
The ranking offers new insights about the varying degrees of institutional engagement with the environmental and social agenda.
World-leading institution
The overall ranking of universities has been determined by the sum of their scores on a range of environmental and social impact factors.
Edinburgh scored 98.3 out of 100 for social impact and was the only UK-based institution to list among the world's top 10 for environmental impact with a score of 81.5 out of 100.
"These rankings reflect the efforts of our staff and students in making the University of Edinburgh more environmentally and socially responsible. Our own strategy aligns the University with the United Nations' Sustainable Development Goals, and we continue to deliver positive change locally and globally through our academic research, education, operations and partnerships. I'm really pleased to see our progress being recognised."
Professor Peter Mathieson, Principal and Vice-Chancellor of the University of Edinburgh
Sustainable future
The University has set itself ambitious targets for making strong and lasting contributions to addressing climate change, including a target to becoming net zero by 2040.
Commitments include the institution's complete divestment from fossil fuels, a sustainable travel policy, and plans to capture and store more than one million tonnes of unavoidable carbon dioxide emissions.
As of 2021, the University has also allocated £8 million to invest in socially-positive activities, such as social investment organisation Big Issue Invest.
Other funding opportunities for social causes include the University's Community Grant Scheme which offers funding to community groups across Edinburgh and the Lothians.
Projects awarded a grant include a community centre, a data literacy club, a youth club and a student-run community vet clinic. So far, the initiative has given out a total of £500,000.
"The development of Covid-19 vaccines is just one recent illustration of the impact achieved by universities cooperating to solve a world crisis. Universities are uniquely placed to lead global efforts in enacting environmental and social change, whether through research, teaching, or community engagement."
Jessica Turner, QS CEO